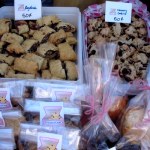 Bake Sales are a standard fundraiser for many groups and schools. Whether Baked from scratch or contributed from the local bakery, bake sale items are traditionally filled with high calorie, high fat and high sugar cakes, cookies, pies and other goodies.
Many parents, myself included, are looking for alternatives to the traditional bake sale. The Healthy Fundraising Ideas article explored healthy alternatives to Bake Sales. Let's take a look at ways of making the traditional Bake Sale fundraiser more healthy.
There are several different ways of making Bake Sales Healthier.
Use Healthier Recipies.
Substitute sugar alternatives like Agave Nectar or Splenda for the sugar.
Host a No Bake Bake Sale.
Host a No Calorie Bake Sale.
Use Healthier Recipies – Save the Cupcake
Missy Chase Lapine a.k.a the Sneaky Chef is working on a campaign to "Save the Cupcake" in her school district by offering cooking classes to the parents to teach them how to cook her healthy recipies. Her recipes that not only facilitate good nutrition, but also support the District's wellness initiative.You can learn more about the Sneaky Chef at her Website, or by ordering her book, The Sneaky Chef: Simple Strategies for Hiding Healthy Foods in Kids' Favorite Meals
.
Resources for More Healthy Bake Sale Recipies
If schools are holding Bake Sales, one thing that you can do as a parent is to help make sure that the recipes being used are healthy ones. This list of websites contain a variety of healthy recipes that can be used at your next bake sale.
In addition the American Heart Association has produced a cookbook, Healthy Recipes Kids Love. This book is a 100-page magazine-stylebook designed to help families eat more healthfully. You can take these healthy recipies and use them as healthy fundraiser recipies. You can order the book through the American Heart Association's website, for only $ 3.99.
Using Sugar Substitutes
There are two sugar substitutes that are gaining some popularity. One is baking with Splenda, the other with Agave Nectar.
Registered dietitian, professional cooking instructor and nutrition educator Marlene Koch has taken her expertise and created Marlene Koch's Sensational Splenda Recipes: Over 375 Recipes Low in Sugar, Fat, and Calories
.
The Splenda website offers a variety of different recipies and resource for hosting a school bake sale.
Natural Foods Chef Ania Catalano has come with the over 100 recipes using Agave Nectar and shares them in her book, Baking with Agave Nectar: Over 100 Recipes Using Nature's Ultimate Sweetener.
Host a No Bake Bake Sale
The idea of Hosting a No Bake Bake Sale comes from Ideas for Healthy Fundraisers at Fundraising.com.
To host a no-bake bake sale, you send home notices to parents or adult group members that they are invited to NOT spend all day cooking, and NOT spend an afternoon at a bake sale table and then NOT feel obligated to buy someone else's culinary efforts.
The hope is that parents will be so relieved about not having to do all of the bake sale work that you can encourage them to simply contribute $10 (or $15, or $20 depending on your fundraising goal) to the No-Bake Bake Sale.
The school wins by collecting donations. The parents win by not spending a lot of time baking cakes, pies and cookies and having everyone consume a lot of extra calories.
Host a No Calorie Cupcake Sale
Having a No Calorie Cupcake Sale is possible when the cupcakes are crochet or knitted from yarn.Crochet and Knit Cupcakes are a fun, simple, no calorie, healthy and guilt-free cupcake option to the normal cupcake. These healthy choice cupcakes have no fats, no sugar and no cholesterol.You could even host a Crochet-a-Cupcake-athon or a Knit-a-Cupcake-athon and have the children learn how to crochet or knit with these fun patterns.
There are many different places online that you can find Crochet and Knit Cupcakes. Two places that you can find a collection of them are at Crochet Cupcakes – A Quick No Cal Gift and Knit Cupcakes – A No Calorie Treat.
More Information and Recipes
Dyer KA. 2008. Healthy Bake Sale Options. Squidoo.com
Dyer KA. 2008. Healthy Fundraising Ideas. Type A- Mom.
Image Source: Tannazie. Rugelach, Cranberry Cookies, and more. Creative Commons. Some Rights Reserved.
About the Author

Kirsti A. Dyer MD, MS, CWS is a respected physician, an expert in life challenges, loss, grief and bereavement, professional health educator, professor, lecturer, writer and author. She also enjoys crochetting and knitting.

Dr. Dyer teaches College Students how to live healthier lives and become more savvy Internet consumers as part of her Nutrition & Wellness Course.