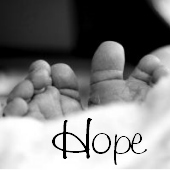 "Hope" is an emotion that is difficult to find during trying times. Finding Hope in the NICU can be challenging for NICU parents concerned about whether or not their NICU baby or babies will survive.
One way to find hope is to hear or read stories of other babies who were in the NICU and have gone on to become successful, NICU survivors and inspirational children and adults.
The stories of former NICU babies are just a few that I have collected. Be sure to add your own NICU survivor story in the comments.
One of my favorite quotes on "Hope" comes from Buddhist monk, poet, and scholar, Thich Nhat Hanh. He says of hope:
Hope is important because it can make the present moment less difficult to bear.

If we believe that tomorrow will be better,

We can bear a hardship today.
For NICU parents trying to cope with the present moment, finding hope can make it less difficult to bear. Hearing or reading about the stories of NICU babies who have survived can help parents believe that tomorrow will come and it will be better.
Having a bit of hope makes the NICU experience easier to bear. 
NICU Survivor becomes NICU Nurse
The inspiration for this article came from a news article in January 2010 in the Pittsburgh Post Gazette, on a former NICU Survivor who has become a NICU nurse.
Brittany O'Rourke, a 23-year-old NICU nurse works in the Magee-Womens Hospital neonatal intensive care unit. Twenty-three years ago, she was a NICU baby at the same hospital fighting for her life after being born at 28 weeks, weighing 2 1/2 pounds.
Several of the NICU nurses who took care of Brittany as a baby are now there to pass on their words of wisdom and advise to Nurse Brittany.
NICU Nurse Brittany is able to reassure NICU Parents in a special way, as a walking poster child for NICU survivors. According to director of the Magee NICU, Lynn Cimino, Brittany is able to bring NICU parents hope:
She's just able to offer families a better perspective because of what she has been through.

Families see how well she has done and what her road has been.

It gives them a lot of hope.
NICU Survivor Creates Award-Winning Website
I featured the PitterPatter website several years ago in a post on the NICU Parent Support Blog.
This site was created by a former preemie (actually micropreemie at 505 grams) with a message of hope:
What every parent of a preemie needs is hope.

When the rollercoaster is careening down a hill or taking a sharp curve in an unexpected direction,

it's good to know that the path you and your child are traveling has been traversed before with successful results.

PitterPatter
She shared her story and other success stories with parents of preemies, distributed business cards with the web address to hospitals with NICUs (Neonatal Intensive Care Units), as well as March of Dimes offices throughout the United States.
The PitterPatter site also ended up as a Girl Scout Gold Award Project.
MicroPreemies Grow Up
Last May, the story of the micropreemies cared for by Dr. Ronale Hoekstra from Children's Hospital of Minnesota in Minneapolis were featured in the news, People Magazine, this site and in a NICU Parent Support Blog post.
The six former NICU babies and micropreemies, all of whom weighed less than 700-800 grams (1 3/4 pounds) are all college students now.
You can watch an news clip about the micropreemies at the NICU Parent Support Blog post.
My Own NICU Survivor
My own NICU Survivor is now nearly 8 years old. Other than a fighting-spirit, and a few residual scars on her wrists and feet from I.V's she is not showing any residual signs of having been admitted to the NICU. We have been very fortunate. She has been our walking poster child of successful NICU survivors.
Add Your Own NICU Survivor Story
If your child is a NICU survivor, or you know of other NICU survivor stories, be sure to survivor stories and links in the comments below. 
Image: Modified from Benjamin Earwicker's Tiny Feet. Royalty Free Use.
About the Author
Kirsti A. Dyer MD, MS, FT is a respected physician, an expert in life challenges, loss, grief and bereavement, professional health educator, professor, lecturer and author. She is also the Parent of a very healthy NICU Survivor.
Dr. Dyer created and has maintained Journey of Hearts, a website for anyone who has ever experienced a loss. She is the author of For Those Who Hold the Littlest Hands, an eBook written to provide information, encouragement and support for NICU parents. She is the founder of the NICU Parent Support Site, a website developed to provide information, encouragement and support for NICU parents.