My children are avid skateboarders. They love skateboarding and try to do all kinds of tricks here on our road. When we got the chance to test drive The Wave , they went bonkers and haven't stopped street surfing since!
Buy The Wave here.
If you've never heard of The Wave, let me be the first to tell you that it doesn't seem to matter how old you are, it's interesting for children all ages (husbands included). The Wave is a skateboard with wheels that go 360 degrees that rides like you're surfing as well as snowboarding. The movement you get from The Wave you could never get with a regular skateboard.
From their website:
The Wave is the original Street Surfing board and the hottest caster board on the market. The Wave combines the natural fluidity of surfing with the smooth maneuverability of snowboarding and skating into one new action board sport known as Street Surfing.
Carves like a snowboard
Wheels spin 360
Abec 5 Bearings
76mm Urethane Wheels

Self propelling action
Sure grip deck design
I will admit my children weren't the best at it at first, but it didn't take long before my 8-year-old son got the hang of it and just took off! Tricks, however, are probably going to take him some time to learn to do, but he does have a good grasp of it, and can even do a few hard turns without falling!
It taking a while longer for my daughters to get a hang of it, particularly the younger one, as she can't seem to grasp the balancing act with it. It doesn't stop her from trying, though. She's eager to get it and start riding like her older brother.
My 4- and 2-year-old, unfortunately, tried it against our recommendations and took one dive on it and that was it. They don't want anything to do with it now (perhaps they'll listen to their parents in the future.. a novel concept, no?)
The only thing I'm noticing that could possibly end up being a negative about The Wave is that the wheels, while they are awesome to rotate 360 like they do, we feel after some time that they might wear quickly. They give great traction during riding (my husband says it's so very smooth) but they seem "soft" and we fear their softness might cause them to wear over time. We haven't used The Wave too long, so again, we're unsure if we are correct, this is just what we've observed. Definitely would not prevent us from recommending it or buying more of them (definitely in our future, having our 3 older children sharing one is really hard!)
If you're looking for a toy this holiday for an adventurous child who would love to try something new, you won't go wrong with The Wave.
This receives our prestigious "Crazy Family of 8″ Stamp of Approval.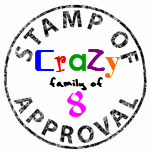 Overall, really ingenious concept, and a really addictive toy. Even my husband, my 'biggest kid' likes it, and doesn't mind giving us a few laughs when he ends up on his hindside. That's okay, since chicks I dig scars.
Lisa Douglas is the editor of Big Families and blogs at Crazy Adventures in Parenting.